Regular price
Sale price
$82.95 USD
Unit price
per
Sale
Sold out
Share
Glass Art Decorative Bowl
Beach Theme Home Décor
Handcrafted in Cincinnati, OH
11"D x 2.5"H
Stop your guests in their tracks with this uniquely stunning, beach themed, fused glass art, fruit bowl. It's done in the most beautiful combination of ivory, orange and aqua blue green opaque art glass mixed with a stunning aqua blue green transparent glass. It will surely have your guests talking. This gently sloping, glass sculpture replicates sea coral in all its splendor. At 11 inches in diameter, it's done in a mix of opaque and transparent glass that lets the light play off of it beautifully! This bowl makes a stunning piece of coffee table décor but works perfectly as functional art, too. Toss in some fruit and add a bold dash of color to your kitchen table or counter. Alternately, it's very easy to hang (just use a small nail through a hole closets to the center circle). These bowls definitely make a beautiful piece of wall décor. Better yet, do a grouping 3 or more for a statement wall.

If you're looking for a distinctively unique and impressive gift for a birthday or any occasion, think contemporary glass art. All glass is hand-cut and placed to create this stunning, abstract design. The glass is smooth and cool to the touch and has a high gloss finish. Cutting and assembly took about 2 hours and total kiln time for this piece was approximately 44 hours.

Handcrafted in Cincinnati, Ohio.
SIZE: Diameter: 11" Height: 2.5" - Note: Glass tends to pull during the melting process. All sizes are approximate to within 1/4" more or less, of listed dimensions.
GIFTS: Sending this item as a gift? Be sure to include a gift message with your order and I'll include a beautiful note with your exact wording (see last image for sample note).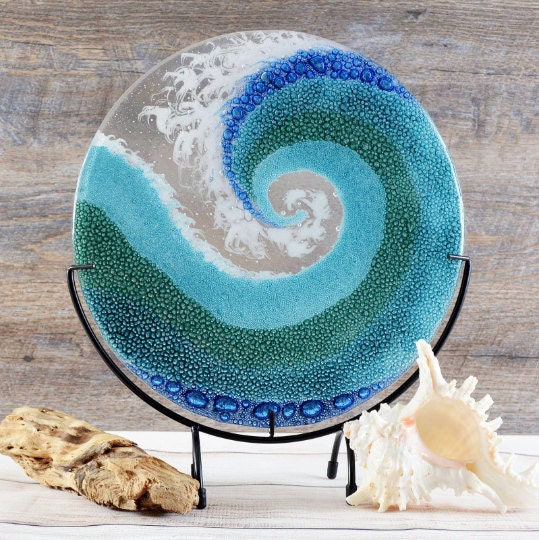 TheGlassRainbowShop
5.0
Total reviews: 902
Sold: 3294
View full details