Regular price
Sale price
$89.95 USD
Unit price
per
Sale
Sold out
Share
This hand-painted natural wood urn in dark blue and light green is a beautiful and unique piece of art. This urn can be used as a striking piece of shelf or table art but it also serves as a final resting place for a loved one's ashes. Crafted with care and attention to detail, this urn embodies a blend of nature-inspired elements and artistic expression.
The urn is made from high-quality, solid wood, showcasing its organic and earthy characteristics. The natural wood grain provides a warm and timeless backdrop for the hand-painted design. The dark blue of the urn evokes a sense of depth and tranquility. It symbolizes the vastness of the sky or the depth of the ocean, representing the limitless nature of life and the eternal connection with nature.
Contrasting with the dark blue, the light green signifies growth, renewal, and harmony with the natural world. It captures the essence of leaves, plants, or new beginnings, bringing a sense of freshness and vitality to the design. The colors blend seamlessly, creating a harmonious composition that pays tribute to the beauty of nature. The urn you see in the pictures is the urn you will receive. Multiple coats of high-gloss sealant have been applied to protect the beauty of this piece for years to come.
Note: Removable lid does not create and air-tight seal. If using as a vase, dried flowers or greenery would be fine. This piece would not work with live flowers as the interior is not waterproof.
SIZE
Height, including lid: 16" 7" at widest point. The base is 3" in diameter.
GIFTS
Sending this item as a gift? Be sure to include a gift message with your order and I'll include a beautiful note with your exact wording (see last image for sample note).
FREE SHIPPING - All glass pieces are triple cushioned for guaranteed safe arrival. Ships via UPS Ground. If you require shipping via US Priority Mail for PO Boxes, Alaska or Hawaii, please select upgraded shipping at checkout.
SKU: 623UBG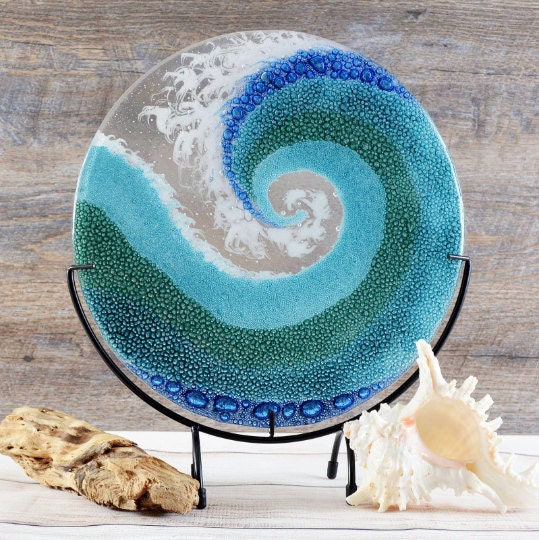 TheGlassRainbowShop
5.0
Total reviews: 902
Sold: 3294
View full details